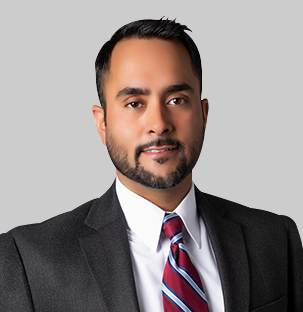 Dr. Feraz Rahman is originally from Raleigh, North Carolina. He attended Duke University where he majored in Computer Science while minoring in neuroscience and Arabic. He completed a Master of Science degree in neuroscience at the University of Pennsylvania and stayed in Philadelphia for medical school at Jefferson Medical College. During medical school he dedicated time to neuroradiology research at the University of North Carolina where he returned for residency. This was followed by a fellowship in Vascular and Interventional Radiology at Emory University in Atlanta, Georgia.
Dr. Rahman, like his colleagues at AMR, believes strongly in practicing clinical patient-centered interventional radiology and offers the full spectrum of IR. Dr. Rahman has special interest in peripheral arterial disease, venous insufficiency, pelvic pain, and uterine fibroid embolization. He has strong experience and interest in oncologic treatments such as thermal ablation and intra-arterial therapies including Yttrium 90 radioembolization.
He also performs portal hypertension therapies including transjugular intrahepatic portosystemic shunt (TIPS) and balloon occluded retrograde obliteration of gastric varices (BRTO) as well as complex hepatobiliary interventions.
Medical School:
Jefferson Medical College, Philadelphia, Pennsylvania
Residency:
Diagnostic Radiology, University of North Carolina, Chapel Hill, North Carolina
Fellowship:
Vascular and Interventional Radiology, Emory University, Atlanta, Georgia
Board Certification:
Board Certified in Diagnostic Radiology, CAQ eligible in Vascular and Interventional Radiology
Professional Memberships/Offices/Academic Appointments:
Diplomate, American Board of Radiology (ABR)
Member, Society of Interventional Radiology (SIR)
Member, American College of Radiology (ACR)
Member, Radiological Society of North America (RSNA)
Member, American Roentgen Ray Society (ARRS)
Special Clinical Interests:
Peripheral arterial disease (Angiography, Angioplasty, and Stenting)
Venous insufficiency (Endovenous laser/radiofrequency ablation, angioplasty, and stenting)
Venous thromboembolic disease (Deep Venous thrombosis and Pulmonary Embolus thrombolysis/thrombectomy)
Liver directed therapy (Yttrium 90 Radioembolization, Chemoembolization)
Tumor ablation (Cryoablation, Microwave/Radio Frequency Ablation)
Liver directed therapy (Yttrium 90 Radioembolization, Chemoembolization)
Portal Hypertension (TIPS, BRTO, Denver Shunt creation)
IVC filter retrieval
Uterine fibroid embolization
Pelvic Varices embolization
Varicocele embolization
Vertebral augmentation (kyphoplasty, vertebroplasty, sacroplasty)
Mesenteric Ischemia
Renal artery stenosis induced hypertension
Hepatobiliary intervention (Biliary stenting and percutaneous gallstone retrieval)
Dialysis interventions
Interventional Pain management (Celiac plexus neurolysis, Facet neurolysis)
Articles
I Found My True Calling; Dr Feraz Rahman
'Over 50 per cent of women trying to conceive can get pregnant within two years' said Dr Feraz Rahman, while explaining the procedure to the treatment of uterine fibroid embolization.
Published on Nov 03, 2020
Local health events: May 21 to May 28
Dr. Feraz Rahman and the Indus Hospital Interventional Radiology Team prepare to perform a uterine fibroid embolization procedure. They performed the procedure free of charge for 14 poor patients over one week. Join Rahman as he discusses the latest treatment options for treating uterine fibroids, and his recent experience in Pakistan, on May 21.
Published on May 2019
Breakthrough Y-90 Treatment Targets Liver Tumors
Patients with colorectal cancer that has spread to the liver now have another treatment option called selective internal radiation therapy (SIRT). This revolutionary therapy is an FDA-approved, non-surgical treatment that uses tiny beads called microspheres to deliver radiation directly to tumors in the liver.
Published on Jan 31, 2020
Know a Man Over 50 with an Enlarged Prostate? Be Sure to Share this Article about a New Procedure at Silver Cross
An enlarged prostate, or benign prostatic hyperplasia (BPH), is one of the most common prostate problems in men over the age of 50, affecting approximately 50 percent of men. The prostate gland is located underneath the bladder, so when the prostate enlarges, it begins to block the urine flow. Having this condition may cause frequent or urgent needs to urinate, difficulty in starting urination, weak urine stream or the inability to completely empty the bladder.
Published on Jan 22, 2020
SpineJack: Silver Cross Now Offers Revolutionary Treatment for Osteoporosis Fractures
Nearly one million Americans suffer from extreme back pain caused by compression fractures of the vertebrae. And while the condition itself can be treated, recovery can be slow and painful.
Published on 2019
Joliet Woman Feels Like She Has a New Set of Legs Following PAD Treatment at Silver Cross
Joliet resident Beverly Dixon, 63, says she feels like a woman half her age following treatment for peripheral artery disease at Silver Cross Hospital in New Lenox.
Published on Sept 10, 2019
Feraz Rahman, MD, MS
Advanced Midwest Interventional Radiology

Silver Cross Hospital
1900 Silver Cross Blvd
New Lenox, IL 60451

Tel: