Are You Suffering from Leg Pain, Skin Changes, Ulcers, or Varicose Veins? 😩
Our providers are holding a FREE On-Site Ultrasound Screening Event on September 7th @ Silver Cross Hospital Pavilion A, Suite 440 from 4-6pm!
Click here to register: https://www.silvercross.org/classes-events/search-results-detail/?eventId=8d818ea8-cd3a-ee11-a860-000d3a61151d
(💡 Expand "Alternative Dates" to see all available time slots!)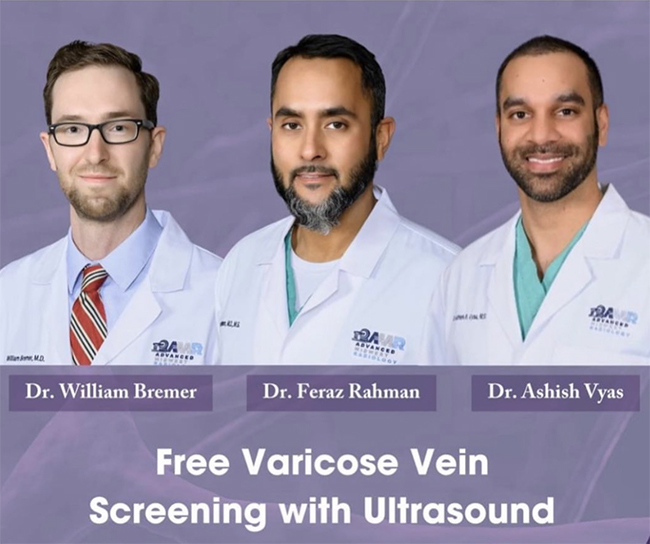 Kyphoplasty
Kyphoplasty is used to treat painful compression fractures in the spine. In a compression fracture, all or part of a spine bone collapses. The procedure is also called balloon kyphoplasty.
What is prostate artery embolization (PAE)?
Prostate artery embolization (PAE) is a minimally invasive procedure performed by an Interventional Radiologist on an outpatient basis that involves targeted release of microscopic particles into the arteries that feed the prostate gland. These tiny particles then block off the blood flow to the prostate and, over the course of several weeks, the prostate decreases in size.
Come join us for a FREE VEIN SCREENING EVENT!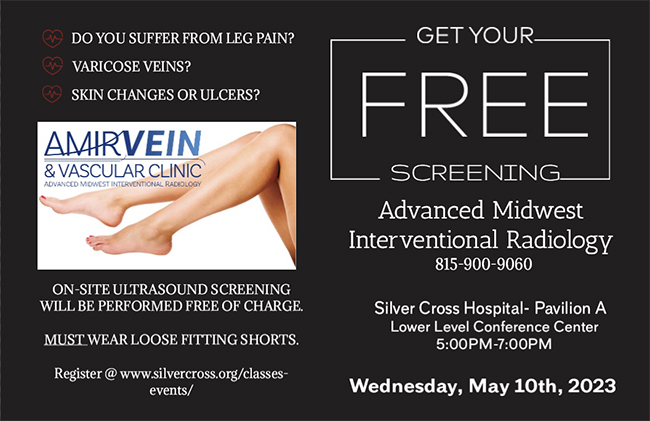 Don't let pesky spider veins or varicose veins keep you from showing off your legs this summer. Our treatment options will have you in and out within an hour. Insurance can charge up to $1000 for an Ultrasound and Consultation with a Physician. Come take advantage of this opportunity to speak with an Interventional Radiologist. You can sign up for a free Ultrasound screening to get assessed to see if you have cosmetic issues or may suffer from vein disease.
You may register at www.silvercross.org/classes-events/
Silver Cross Patients Can Breathe Easier After Lifesaving Procedure to Remove Blood Clots
Interventional radiologists on staff at Silver Cross Hospital in New Lenox are saving lives and helping patients with blood clots in the lung breathe easier thanks to an innovative technology that "retrieves" the clots.
Published on Nov 23, 2022
Know a Man Over 50 with an Enlarged Prostate? Be Sure to Share this Article about a New Procedure at Silver Cross
An enlarged prostate, or benign prostatic hyperplasia (BPH), is one of the most common prostate problems in men over the age of 50, affecting approximately 50 percent of men. The prostate gland is located underneath the bladder, so when the prostate enlarges, it begins to block the urine flow. Having this condition may cause frequent or urgent needs to urinate, difficulty in starting urination, weak urine stream or the inability to completely empty the bladder.
Published on Jan 22, 2020
SpineJack: Silver Cross Now Offers Revolutionary Treatment for Osteoporosis Fractures
Nearly one million Americans suffer from extreme back pain caused by compression fractures of the vertebrae. And while the condition itself can be treated, recovery can be slow and painful.
Published on 2019
Joliet Woman Feels Like She Has a New Set of Legs Following PAD Treatment at Silver Cross
Joliet resident Beverly Dixon, 63, says she feels like a woman half her age following treatment for peripheral artery disease at Silver Cross Hospital in New Lenox.
Published on Sept 10, 2019
Revolutionary Y-90 Treatment at Silver Cross Targets Liver Tumors
Metastatic colon cancer is a frightening diagnosis, but a revolutionary treatment at Silver Cross Hospital in New Lenox is giving hope – and delivering promising results – to patients like Linda Poteracki.
Published on Nov 08, 2018
Retired Medical Secretary Gets Good News When Tumor Shrinks by 85%
Metastatic colon cancer is a frightening diagnosis, but a revolutionary treatment at Silver Cross Hospital in New Lenox is giving hope – and delivering promising results – to patients like Linda Poteracki.
Breakthrough Y-90 Treatment Targets Liver Tumors
Patients with colorectal cancer that has spread to the liver now have another treatment option called selective internal radiation therapy (SIRT). This revolutionary therapy is an FDA-approved, non-surgical treatment that uses tiny beads called microspheres to deliver radiation directly to tumors in the liver.
Published on Jan 31, 2020
Normal chest x-ray 'no guarantee' a patient is COVID-free, urgent care providers say
A group of urgent care providers are casting further doubts this week about the use of chest x-rays to assess patients with possible COVID-19.
Published on Apr 15, 2020
Emerging Trends in Radiology
A new decade means new technologies, including innovations such as hybrid imaging and artificial intelligence
Published on Apr 02, 2020
Acr Recommendations For Chest Radiography And Ct For Suspected Covid-19 Infection
As COVID-19 spreads in the United States, there is growing interest in the role and appropriateness of chest X-ray and CT for the screening, diagnosis, and management of patients with suspected or known COVID-19 infection.
Published on Apr 02, 2020
These are the signs, symptoms, and complications of blood clots to look out for
Blood clotting is a normal function that occurs when you have an injury. If you scrape your knee, blood clots at the site of the injury so you don't lose too much blood. But sometimes blood clotting can cause complications.
Published on Sept 01, 2017